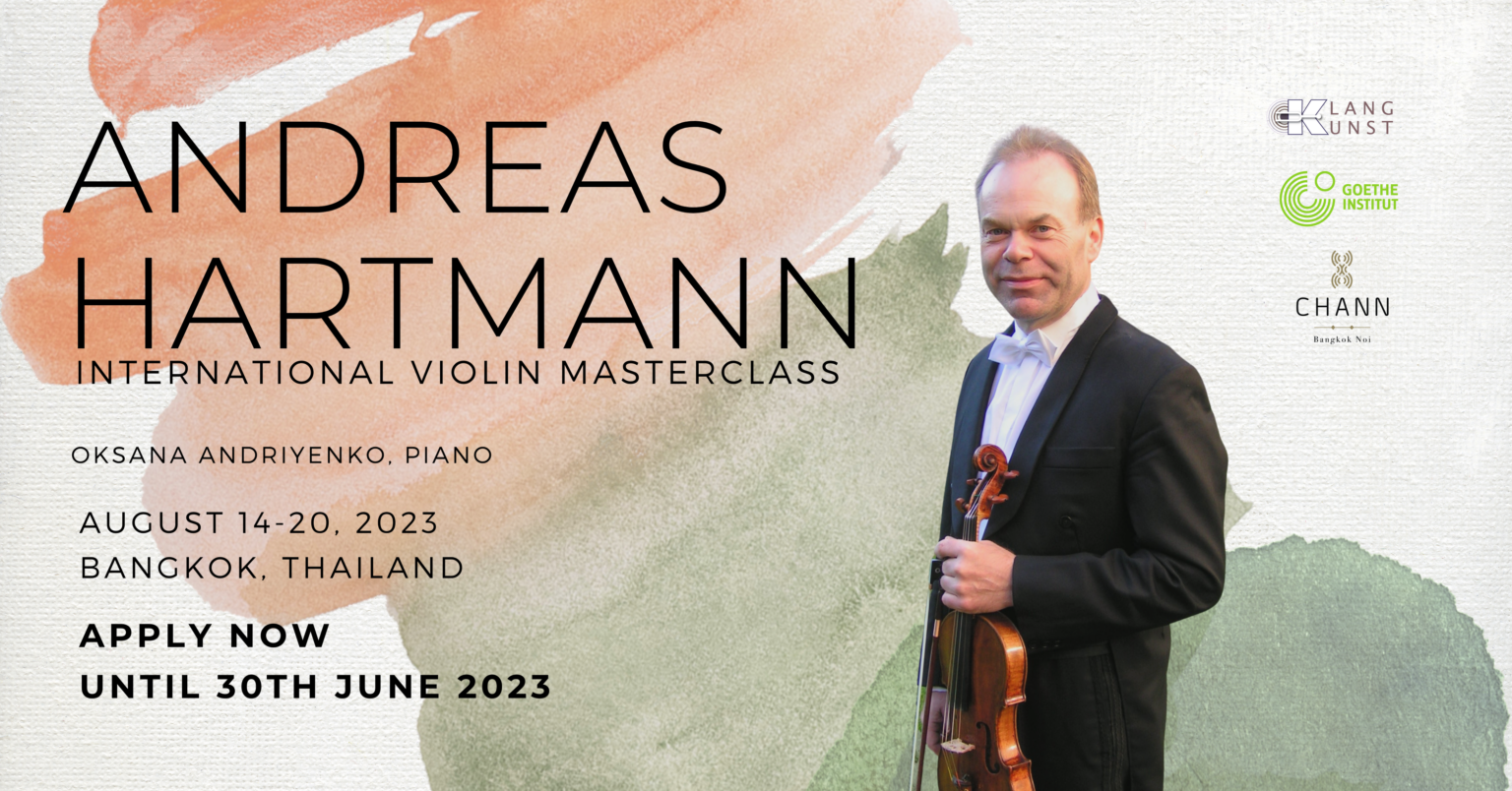 Andreas Hartmann International Violin Masterclass
Date : 14-20 August 2023
Prof. Andreas Hartmann, Violin Professor at the University of Music "Franz Liszt", Weimar
Oksana Andriyenko, Collaborative Piano Lecturer at University of Music "Franz Liszt", Weimar
Active Participation | Information and Application
A full-week-long Masterclasses will be held by Prof. Andreas Hartmann and Oksana Andriyenko involving:
• Daily individual lesson with Prof. Andreas Hartmann, at least 5 hours (possibly divided into several shorter lessons).
• Professional piano accompaniment by Oksana Andriyenko.
• Group Lessons
• Participant's Concert at Goethe Saal, Goethe-Institute Thailand
• Full Accommodation (compulsory)
Fees:
Registration fee: 1,000 Thai baht (Refundable)
Active participation: 21,000 Thai baht
Full Accommodation: 10,000 Thai baht
Application Online
Registration deadline: 30 June 2023

Submit the following documents to info.klangkunst@gmail.com
Curriculum Vitae (PDF)
Registration fee: Please send us your proof of payment to confirm your application . Applications will only be considered if the full registration fee has arrived in our bank account.
Youtube Video Link: a video containing two works from different stylistic eras. (unedited, in good sound and image quality, not longer than 15 Minutes). Applicants must be clearly seen in the video.
Passive Participation and Guest Auditor
With passive participation you receive:

The ability to sit in on all classes.
Full Accommodation
Special tickets to all concerts of the Masterclasses

Application Procedure

Registration deadline: 30 June 2023

Online registration via Email: info.klangkunst@gmail.com
Payment of a total fee of 20,000 Thai baht.
The passive participation fee is non-refundable.
Guest Auditor
Purchase of day tickets at the masterclass's venue for the price of
– 1 day: 500 Thai baht
– 3 days: 1,300 Thai baht
– 7 days: 3,000 Thai baht
The fee is non-refundable.
Course Language: English and German
Location
CHANN Bangkok-Noi
https://www.facebook.com/ChannBangkokNoi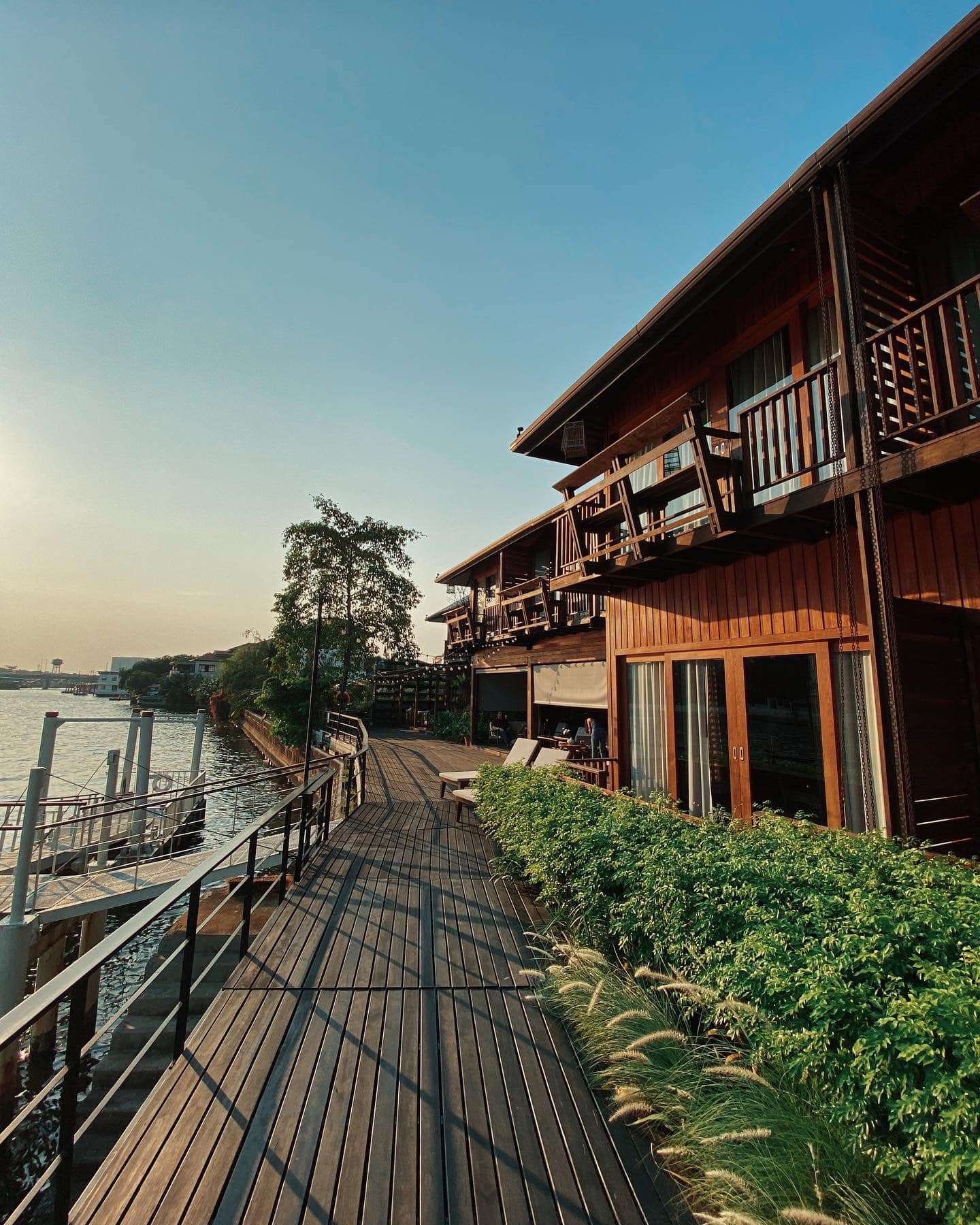 ---
Meet our Professors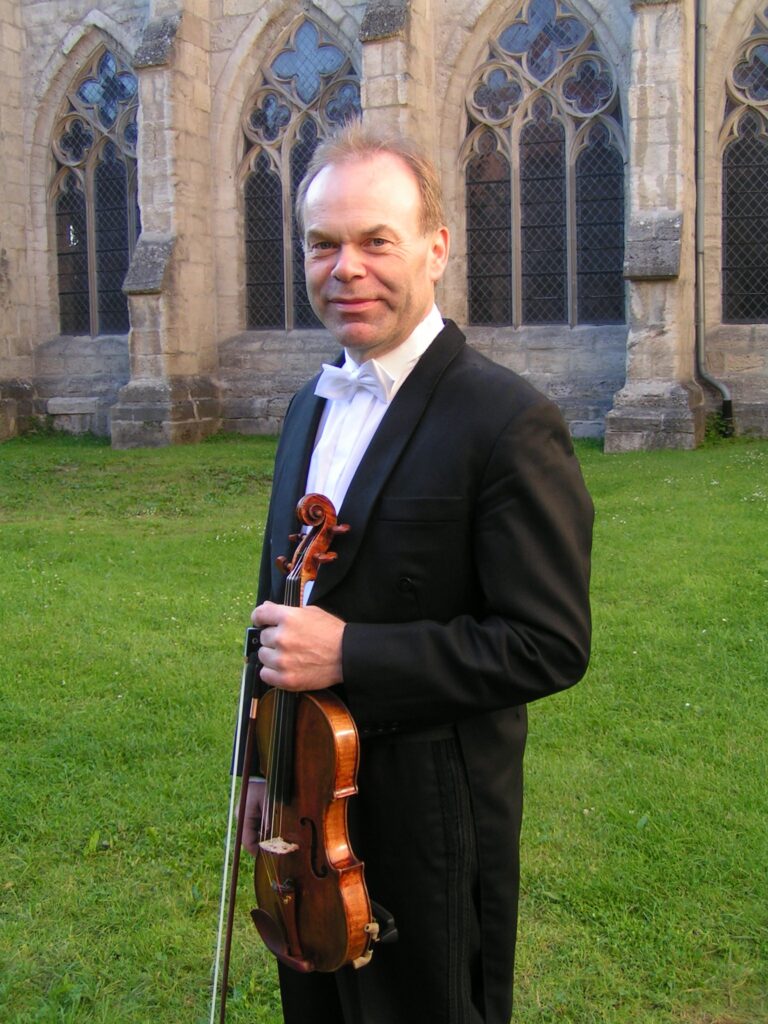 Andreas Hartmann
Born in Halle in 1960, Andreas Hartmann studied at the Musikhochschule Weimar with Jost Witter. He was a Prizewinner at national and international competitions, including the 1980 International Johann Sebastian Bach Competition in Leipzig and the 1982 International Tchaikovsky Competition in Moscow.
In 1984, he won a position as the first concertmaster of the Grosser Rundfunkorchester Leipzig, and in 1990, he took over the same position at the MDR Symphony Orchestra. His extensive concert activities include chamber music and solo works, which he performs with the MDR Symphony Orchestra in the broadcasting area and at guest concerts in Germany and abroad,including in January 2006 together with Rodin Moldovan Brahms' double concerto in the Leipzig Gewandhaus and in Weimar, and in April 2006 Mozart sonatas in the Old Town Hall and Mendelssohn's 1st symphony in the chamber music version Seoul and Bangkok. Andreas Hartmann also gives concerts in Europe, Asia and Canada. He has been a regular guest in the USA since 1999. He gave his 300th concert there in October 2009.
Numerous television, radio and CD recordings round off his field of activity, including the 200th birthday of F. Mendelssohn-Bartholdy and the recording of the R. Schumann Sonata for violin and piano op .121 with the pianist, Rolf-Dieter Arens.
Andreas Hartmann plays a Guarneri's Violin made in 1744.
---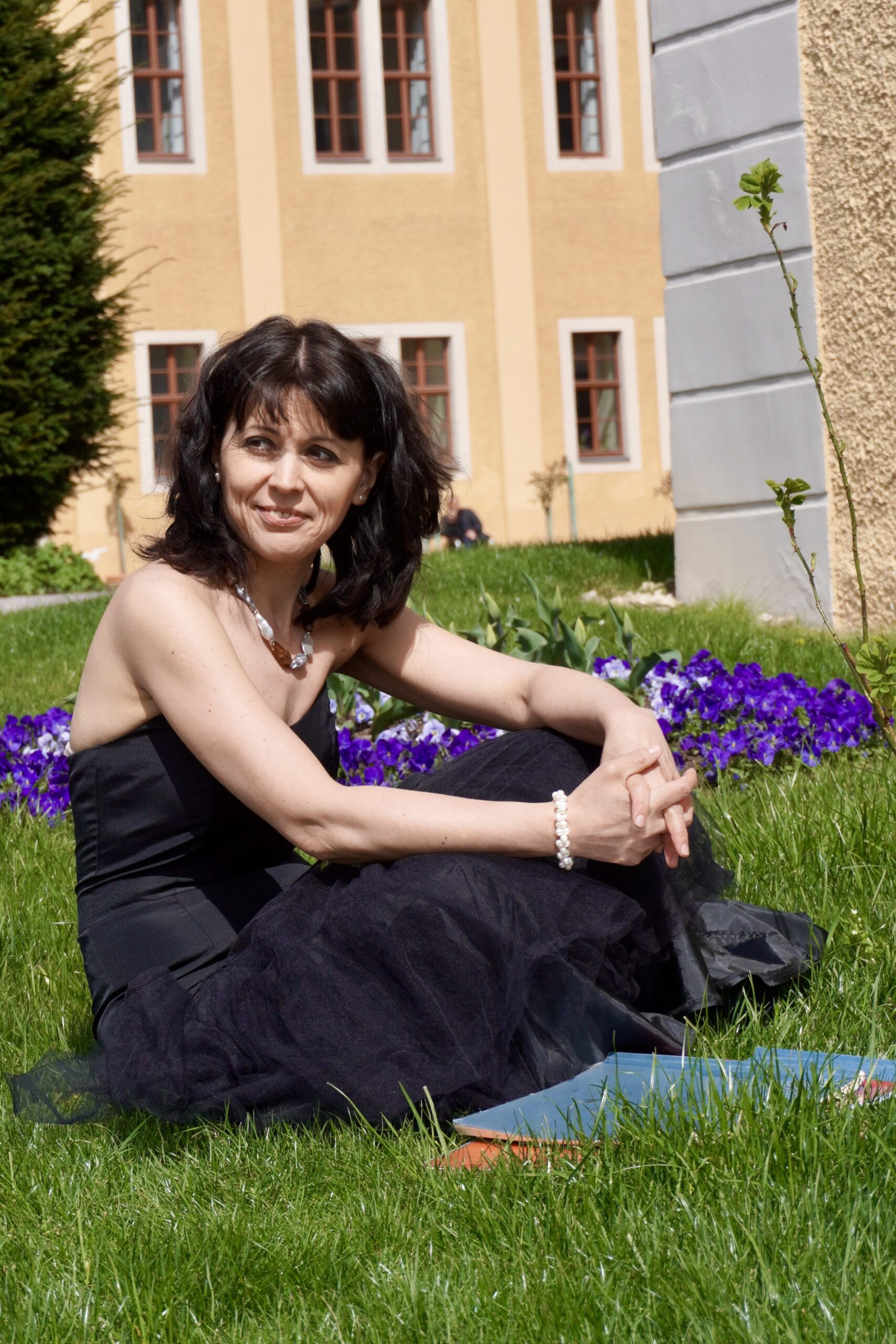 Oksana Andriyenko
Oksana is an award winning pianist from Odessa, Ukraine. Her pizes and awards include the prestigious Sergei Rachmaninov and Henryk Neuhaus piano competitions. Having completed her undergraduate degree in Ukraine Oksana continued with her postgraduate studies in the Konzertexam-Chamber Music at the University of Music FRANZ LISZT WEIMAR. As a concert pianist and a chamber musician Oksana performed in Germany, Austria, Japan, Poland, Ukraine and Switzerland.
As a chamber music partner, Oksana performed with violin virtuosos such as Igor Oistrach, Boris Kuschnir, Ingolf Turban, Lukas Hagen, Zscholt Tihamer Visontay, Thomas Zehetmair, Martin Spangenberg, Igor Ozim and Friedemann Eichhorn.
Oksana has over 18 years of teaching experience at the HfM Weimar and frequently accompanies soloists at the International Louis Spohr Competition in Weimar, Violin Funding Competition in Dessau, Master Class Haus Marteau Lichtenberg and the Summer Academy Mozarteum in Salzburg.